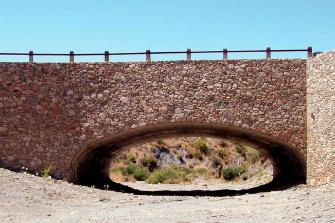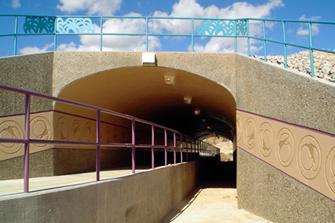 The final step in the Con-Arch construction process is the application of decorative treatment to the head and wing walls. There are many options available to customize the appearance of Con-Arch structures. These include the use of architectural treatments such as insets and eyebrows, form liners, colored or stained concrete, and brick or stone veneers.

In many design applications the arch serves both hydraulic and transportation functions. For installations such as pedestrian, equestrian, or golf cart crossings, the graceful shape of the arch is preferable to the alternative of a conventional rectangular box culvert.
Often, Con-Arch structures are designed to compliment other aspects of a master planned community. By using the same decorative materials found in other structures and elements, the arches seamlessly integrate into their surroundings.
Even for applications that do not involve a pedestrian underpass, the appearance of the structure as viewed by passers-by may be critical. Clients have stated a clear preference for the appearance of an arch structure over that of a box or pipe. The use of form liners or decorative material applied to head walls and wing walls can enhance the overall aesthetic appearance of the Con-Arch while presenting the opportunity for each installation to have a unique design.
When appearance is a critical factor, nothing can compare to the naturally pleasing geometry and aesthetic beauty of the Con-Arch.
Visit our video page to see videos of the
construction process, hear what clients are
saying and more. Just click the link on the right.